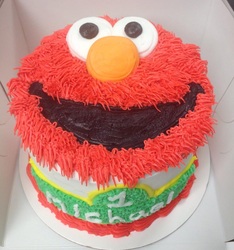 For as little as $9.00 you can make a tremendous difference in the life of a child, special needs or elderly that may not have the opportunity to experience something as simple as a "Birthday Cake".
Each birthday cake provided is a 9 X 13 sheet cake that gets personalized for the person receiving it. Up to 24 servings can be provided when cut into a 2 X 2 slice allowing for the whole family or their guests on their special day. We strive to provide as many cakes as possible not only to children but to special needs individuals and elderly whom are on low or fixed incomes that may not have the ability to obtain a Birthday cake on their special day.
Enter the number of cakes you would like to sponsor here: (drop box that would show 1, 2, 3, etc. and rack up by multiples of $7.00 if possible) or select from the options below.

Single Cake
$9.00
Quadruple the impact $36.00
Sponsor two $18.00
Five special cakes $45.00
Make it a trio $27.00
Ten times the pleasure $90.00
Generate your own custom amount and know that for every $9.00 donated there will be someone special receiving your blessing.
Thank you from the depths of our hearts for helping us provide for these special people on their special day!
Want to find out more about how you can help in other ways.
Click here to visit our Donations page and see all the area of impact that you can be a difference maker.
When you feed others you are feeding Christ.
Matthew 25:34-40 "Then the king will say to those on his right, 'Come, my Father has blessed you! Inherit the kingdom prepared for you from the creation of the world. I was hungry, and you gave me something to eat. I was thirsty, and you gave me something to drink. I was a stranger, and you took me into your home. I needed clothes, and you gave me something to wear. I was sick, and you took care of me. I was in prison, and you visited me.' "Then the people who have God's approval will reply to him, 'Lord, when did we see you hungry and feed you or see you thirsty and give you something to drink? When did we see you as a stranger and take you into our homes or see you in need of clothes and give you something to wear? When did we see you sick or in prison and visit you?' "The king will answer them, 'I can guarantee this truth: Whatever you did for one of my brothers or sisters, no matter how unimportant they seemed, you did for me.'